This is part one of a three part series on HRM Direct clients recruiting with social media. Click here for part two.. Click here for part three.
At HRM Direct, I have had the privilege of working with HR professionals across industries in Retail, Healthcare, Tech and everything in between. I've learned that each client from each industry brings with them unique challenges & opportunities and social media is no exception – it's definitely not a one-size fits all solution.
Before I demonstrate the unique ways Social Media has influenced clients and their recruiting efforts via 3 case studies, I would like to add a quick note on Social Media usage overall.
When I chat with clients regarding their Social Media usage, specifically about Facebook, Twitter and LinkedIn – the reactions I get are all across the board. Some are skeptical, some are enthusiastic and others frankly could care less. These reactions also change over time - the most notable change we've seen over the past year is a surge in the usage of LinkedIn [1][2].
In the case studies, you will see that this mix of reactions is natural. Every client will have different levels of usage and success with Social Media. I aim mainly to illuminate specific instances where Social Media has helped our client's recruiting efforts.
In the following series of articles, I will look at a client from each of the Retail, Healthcare and Tech industries. I will look at the unique needs these clients have in regards to their industry and the opportunities available using their existing social media presence to meet their recruitment needs.
1. http://www.nytimes.com/2013/01/27/jobs/how-job-seekers-can-say-look-at-me-to-online-recruiters.html
2. http://www.nytimes.com/2013/01/28/business/employers-increasingly-rely-on-internal-referrals-in-hiring.html?pagewanted=all&_r=0
Client in the Retail Industry
Highest volume of candidates: average 300-400 per requisition, up to 1000
Strong Facebook Presence: new posts 2-3 per week
High volume of traffic to career site via mobile phone: 15% of total career site visitors
The elusive social media presence
This client was typical for what we see for clients in the Retail industry in many ways. The client used Facebook primarily to communicate with the public and was hiring for candidates across the US for retail positions.
They had a strong social media presence built up for it on Facebook, which right away gave us a lot to work with. For example, we saw their Facebook page had a great visual for their cover page and their profile photo prominently displayed their logo. The page had 3000+ likes and we saw posts being updated 2-3 times a week, with highly engaging photos of new products and of team members at work. We saw 30+ likes for these posts and even better in terms of engagement, comments on these posts by enthusiastic fans.
A Facebook centered strategy
As the most popular social media site in the US, Facebook is a great place to broadcast to the average person who may frequent malls and use name-brand products. Furthermore, because the available positions for many Retail companies do not require highly skilled candidates, Facebook can be a great place to tap into a pool of potential employees.
Use built in Facebook features to your advantage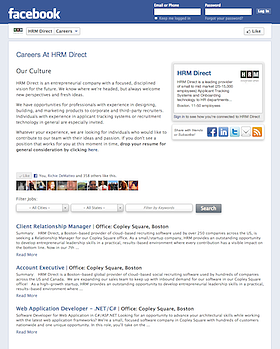 This takes advantage of a few built-in features of Facebook. One is that a user's employer is the first thing that displays below their profile page. In addition, even for people who are not currently your friends, this is something that displays when you hover over their name. Take that a step further, if your company maintains a Facebook page, with a single click a user can be directed to the online presence of your company where her neighbor, high school friend or sister-in law works.
Given these built-in features, for this client we wanted to use their active and strong Facebook presence to aid in recruiting. If you have rabid fans of your product, why not make them your enthusiastic employees? With many jobs open across the country at any time, and a high rate of turnover – having solid candidates ready to go was essential in making sure they were running at full capacity at all times.
Who says Facebook can't find you your next job?
We set up a Facebook career site that so that visitors could apply from Facebook itself and have their candidate profile show up directly in our HRM Applicant Tracking System – with sources tracked. Posts highlighting new openings would show up in the news feed of the 3000+ users following the company and to any visitors to the page. Also, for visitors with a steady job, we added a Share function so that they could send job openings to relatives, friends or family via messages.
Job seekers are going mobile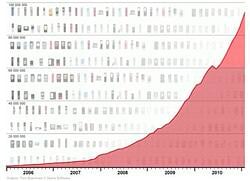 Finally, we noticed that a high percentage of visitors for this client were viewing the Company Career Site using their mobile phones and trending upwards. This is something we've noticed as a larger trend – higher rates of site visits using mobile phones across clients and across industries. To make sure our client was able to take advantage of these visitors, we set up a custom career site for our client. Now instead of applicants having to zoom in and move around to touch the right link, we were able to make navigating the mobile career site the way it should be – a touch of the screen.