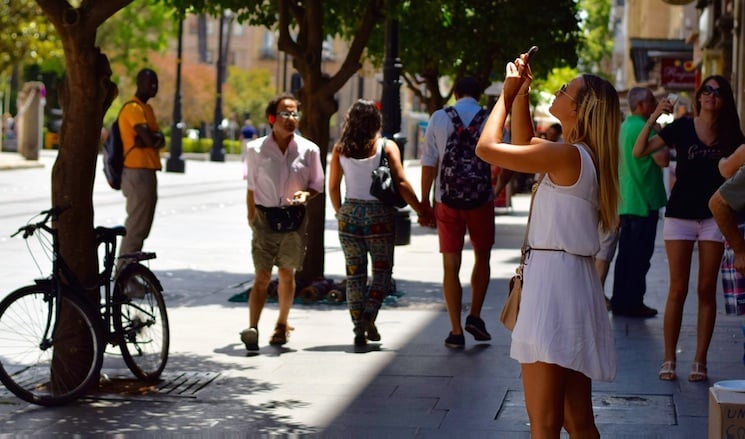 The time for mobile recruiting is now, and quite frankly it's thriving. Why? In simple terms, the world is changing, and with it, its people and how they operate (especially in how they look for jobs.) What does this mean for the future of recruiting? In a recent survey conducted by Deloitte, research found that the average consumer checks their phone 74 times a day. Today we turn to a recent Quora post to answer the question that is on a lot of recruiters' minds:
Q: What is the future of mobile recruiting?
This question originally appeared on Quora. Answers have been edited for clarity and brevity.
"...The future of mobile recruiting is a difficult thing to nail down. It really depends on whom is doing the recruiting. If you are talking about companies looking for internal talent, the future of mobile recruiting is content, challenges, and gamification.
If a company like P&G is looking for innovative marketers, then they can create an app that allows individuals to create campaigns and distribute content via a contest to gain points. The individuals with the most points will be considered for an interview if they want. This is the future of mobile recruiting because this whole process will take place on mobile devices. That way the innovation being brought up during this process will be directly applicable for P&G (or other companies) mobile strategy.
If you are talking about 3rd party staffing firms then the future of mobile recruiting is messaging done right. The big problem is for both individuals in the messaging process to have a say on what information they want to share, and the ability to opt out. SMS isn't a good direction because then you can keep calling the individual, or spam them with unwanted messages…"
--Andrew Rangel, iOS Developer

Take a look at what Andrew Rangel, iOS Developer, says about the future of mobile recruiting:
Andrew brings up a lot of possibilities but the most important part of his response, is this: "This is the future of mobile recruiting because this whole process will take place on mobile devices." What recruiters and HR professionals need to understand is that eventually (and in some places right now) the entire recruitment process will take place on a mobile device and we have to plan for that. That means less arduous applications, no downloadable PDFs for FAQs and definitely, a responsive site.
"...The future is mobile recruiting, simply because the future of computing is more and more focused on mobile devices. The devices will evolve from the smartphones and tablets we have today, but the truth is that companies have yet to appropriately adapt to the way job seekers search - which is increasingly on their mobile devices.
Why mobile devices? Because they do everything else with their mobile devices. With data coverage nearly anywhere, they have more access to the internet than they could dream of with their PC - and they still use them when they're sitting at home, with a laptop or desktop in close reach and easily accessible. The mobile device is rapidly becoming, if it isn't already, the preferred mode of accessing the web.
Mobile recruiting is not just about adapting to devices. It's an opportunity to improve the recruiting and application process overall…"
--Andrew O'Brien, Phenom People, Leader in Talent Relationship Category
Andrew O'Brien with Phenom People says mobile recruiting isn't just about adapting to devices...
For far too long, Andrew implies, we've been basically shrinking the same old boring application and interview processes to fit smaller devices. That won't work in the future of mobile recruitment. Adapting means understanding how jobseekers use their smartphones.
Mobile recruiting isn't a fad: There are over 6 billion mobile subscriptions, equal to 87% of the world's population and outnumbering landlines 5 to 1.
"Companies simply need to get over their ingrained fears of new mobile users and leverage the technology that makes it possible in the first place. Mobile recruiting hasn't become the standard quite yet, but it soon it will be. Whether companies want to be a part of that future is up to them."- Sylvie Woolf, ClearCompany.
ClearCompany has been on top of the mobile recruiting trend for a while now. At ClearCompany we value trends in technology and bake them into our software. We offer the latest and greatest in onboarding techniques and programs, as well as task tracking, and performance management. Don't believe us? Sign up for a demo today!
Related Posts: